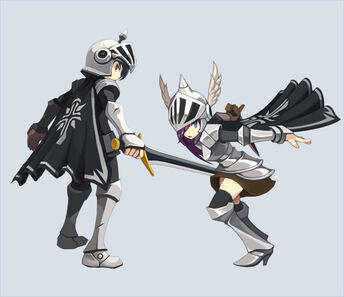 "Knight in shining armor"
Skills
Headbutt

Helm, Active:

Ram your head into your target to cause them to be dazed for a short amount of time

Refuge

Armor, Passive:

When hit causes a slight push back on enemy hitting you

Dexterity

Trinket, Active:

Increase the movement speed of yourself and nearby allies

Triple Slash

Weapon, Active:

Attack with three consecutive slashes- Air Usable


Iron Knight is a Melee hero with swift attacks & defensive armor. With Dexerity Iron Knight is able to make himself and his allies faster.

Special Abilities:
Hold D faints opponent
After 3 hits of basic combos, can hold D last hit for extra knock up
Triva
---
The original name for the trinket skill, "Dexterity" in NALS was "Haste Aura"
The original name for the armor passive skill "Refuge" in NALS was "Sheild Sigil"